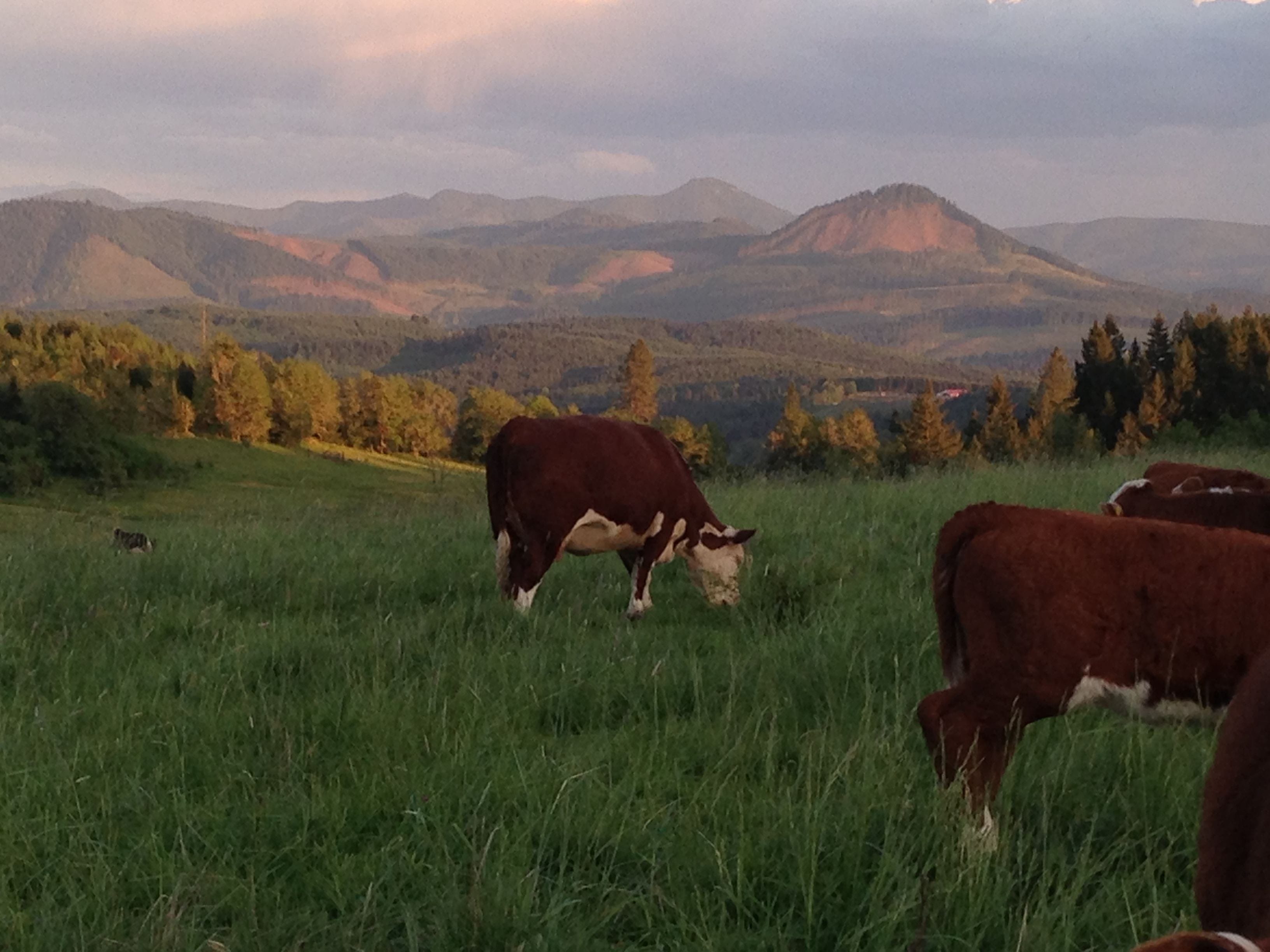 Registered Polled Hereford Cattle
Marty and Jonny with their 5 basenjis: Kenzie, Ginger, Kody, Bridget, and Tuffy
Cow/calf Pairs
We are a cow/calf operation producing young cows with calves at side and bred back. We also have yearling heifers and feeder steers available in spring.
High Meadow Farm is located on 365 acres in the Cascade foothills where we raise beef for people who care about quality, who want to know where their food comes from, and who are concerned how animals are treated. Our beef is 100% traceable. We have a closed herd and raise all the beef we sell on the farm. We care about our land, our animals, and our health. Our farm was established in 1973 by Martha DeWees, DVM and Jonny Watson. Dr. DeWees has been involved with polled Hereford cattle for 64 years. She received her Bacherlor of Science in Animal Husbandry and Doctor of Veterinary Medicine degreess from Michigan State University. She represented MSU on the livestck judging team and has judged 4-H livestock shows.High Meadow Farm is a member of the Oregon Hereford and the American Hereford Associations. Martha is the veterinarian and herd manager and Jonny is the farm manager.
Cattle Our purebred Polled Hereford cattle are bred for efficiency, fertility, temperament, and soundness. Our cattle are never confined and have free access to pastures year-round. For optimal selection, the breeding program is based on artificial insemination to performance tested bulls. Calving season is in March and April. Performance records are kept on all cattle and cattle receive routine herd heath care.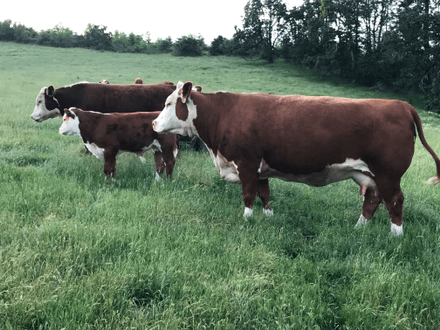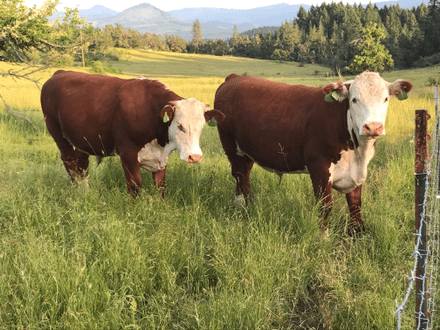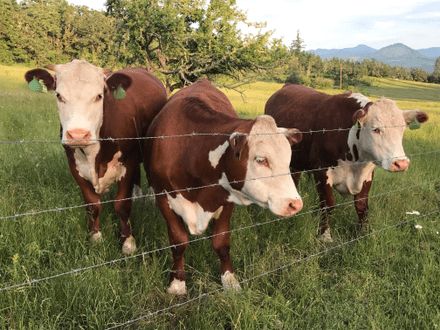 Meat Cutting Guide for Farm-Raised Beef
We want to provide premium, healthy beef at a reasonable price. Our goal is to help you cut this beef in a manner that will work in with your lifestyle and cooking habits. Although it is enticing to try new and different cuts of beef, we don't want you to end up with unused cuts or too much of one type of cut that is little used.
Meat Processor
We use Mohawk Valley Meats in Marcola for processing and packing. Presently they charge $.65 per pound hanging weight that includes custom cutting, double wrapping cuts, packaging the ground beef into 1, 1.5, or 2 pound plastic bags and quick freezing.
Which cuts of meat do you typically buy, eat and like?
Do you use roasts or prefer mostly steaks?
Do you use a lot of ground beef?
The more lean cuts put into ground beef, the leaner and better the ground beef. If you put only trimmings into ground beef, it may be fatter than you like. We prefer 10% fat.
Do you like to quick cook meat and serve it medium to medium rare (steaks, burger, meatloaf) or do you prefer well-done meat (pot roasts and stews).
Do you like to prepare and cook ribs, soups or stews?
Do you prefer boneless or bone in steaks and roasts? Cuts of beef range from succulent tender cuts like tenderloin to the tougher chuck and bottom round. Butchers will not trim the fat from lower cuts in making stew meat. This makes trimming stew meat tedious. If you want stew meat, request chuck roasts or bottom round or sirloin tip in 3 to 4 pound packages. These can be thawed, trimmed and cut into appropriate size pieces. There are some parts that you need to request or you may not get them. (If you do not want them, we can use all but the bones for our dogs.)
Liver
Heart
Oxtail – great braised or for oxtail soup
Tongue – great for hash and some folks like to use in sandwiches or tacos.
Hanging tender – if not requested will usually be put into burger.
Soup bones
– if you want bones for dogs, use only the joint bones (spongy); trim completely of all fat and cook to remove the marrow fat before giving them to dogs. Shank and steak bones are very hard and will break dog's teeth. The fat can make them ill. (Sorry, I can't help it. I'm a vet.)
Steaks
Do you like all steaks or do you prefer only the most tender, juicy steaks? The less tender cuts can be Swissed to increase tenderness. Fewer steaks mean more ground beef of a higher quality.
Do you want jerky?– plain, black pepper, teriyaki, and red pepper flavors. There is additional cost above the cutting and wrapping charges. Two pounds of fresh meat processes into 1 pound of jerky. Jerky needs to be refrigerated or frozen if not consumed within a few weeks. Jerky requires very lean meat. We usually use bottom round or sirloin tip. We vacuum pack and freeze the jerky to preserve freshness.
Once you have decided what you want, you will need to give cutting instructions to the butcher. Some of the questions they will ask are:
Roasts - how big? For 4 or 8 people? Small roasts are about 3 to 4 pounds while large roasts are about 7 to 8 pounds.
Steaks – package for 2 or more people? They will usually put 2 steaks in each package. If you want only one steak per package, it will cost extra and take more room in your freezer.
Do you want the bone in or boneless? Bones take more room in the freezer. Bones provide more protection for the meat and require less handling of the meat before you eat it.
Rear Quarter
• Rump roast: 1 large or 2 small roasts. We like boneless.
• Sirloin: best for steaks
• Loin:
Bone In
Boneless
T-Bone New York
Porterhouse New York + tenderloin
• Sirloin tip: - no relationship to sirloin, tends to be tougher and lean – burger or jerky
Round
• Top: tougher steaks than loin or sirloin
Value Cuts – Sirloin Tip Center steaks and Round Tip Side Steaks
Remainder - burger or jerky
• Bottom: tougher steaks than loin or sirloin
Value Cuts – (from the outside round or flat) Western Griller Steaks
Remainder – jerky, ground beef
• Eye of the Round: = 2 small roasts – very lean, a bit tough but good for sandwiches.
Flank – Unless requested this will go into ground beef – can be used as steak, or for stroganoff or Chinese meals.
Front Quarter
Rib: You can have either roast or steaks or some of both. If you want both, the best steaks come from the small end. If you use the small end for steaks, you will not have a prime rib roast. You can have a rib roast but it will be from the big end and have a different appearance. Most people prefer the bone in but it can be deboned.
Steaks from the small end of the rib
Bone In
Boneless
Rib steak Delmonico steak
Roasts
o Number of people and number of ribs
o Small end = Prime Rib
Rib bones: If you want to prepare beef ribs you will need to decide how many per package.
Chuck:
provides a large amount of beef.
• Shoulder
Shoulder Center Steaks
Top Blade – Flat Iron Steaks
Shoulder Tender - Petite Roast
• You can request to have it boned and trimmed of most of the fat and put it into burger.
• You can have chuck roasts that are best for pot-roasting or stew meat.
Brisket
– great for corned beef if you know how and have the time. Ask them to trim it lean.
Ground beef or hamburger: - the burger will be very lean = 10% fat. We prefer that all fat be trimmed in preparation for ground beef and that if fat needs to be added to bring it up to10%, request the butcher add in kidney knob which is the hardest, whitest fat. Take your time with your cutting order. Ask for clarification if you don't understand. Be sure you have covered all the cuts that are important to you.
Our grass-finished beef is raised naturally on non-irrigated pastures supplemented with Oregon-grown hay in winter. We use no feed-grade antibiotics, growth hormones, feed additives, grains or concentrates, just quality forages that animals were intended to eat. The animals are processed in a USDA-inspected plant. To maximize tenderness beef carcasses are hung two weeks and the cuts of meat are double-wrapped and deep frozen.We sell beef by the half, or whole. Custom meat cutting is provided by Mohawk Valley Meats in Marcola.
Benefits of Grass-fed, Farm-raised Beef
Farm-raised, grass-fed beef has many benefits over grocery store meat.The beef is lean; there are no antibiotics or hormones used in the feed. Grass fed beef will have very low E. coli counts compared to grain-fed animals. There is no likelihood of mad cow disease. Grocery store beef comes from boxes shipped from the wholesaler within days of slaughter, not allowing for proper ageing of the beef prior to cutting. There is much less surface contamination than occurs when cuts of meat are handled at both the processor and the retailer and then allowed to sit in refrigeration rather than frozen.